The PADI Open Water Diver course with Oceandivers
If you've always wanted to learn how to scuba dive, Oceandivers can help you discover new adventures and see the wonderous world beneath the waves. The PADI Open Water Diver course is the world's most popular scuba course, and has introduced millions of people to the adventurous diving lifestyle.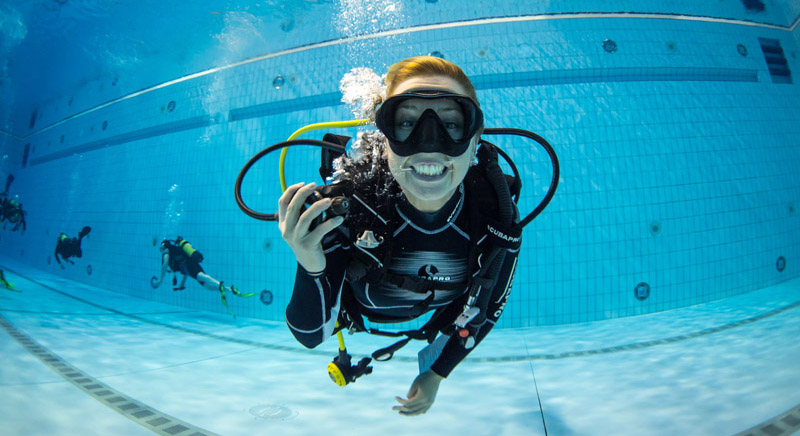 What You Learn
The PADI Open Water Diver course consists of three main phases:
Knowledge Development (online, home study or in a classroom ) to understand basic principles of scuba diving (5 modules)
Confined Water Dives to learn basic scuba skills (5 pool training dives).
Open Water Dives to review your skills and explore (4 open water dives).
Prerequisites
To enroll in the PADI Open Diver course or Junior Open Water Diver course, you must be:
12 years or older (PADI eLearning requires a minimum age of 13 years due to international internet laws).
You need to be able to swim and be happy in the water to safely enjoy learning to dive.  


The Fun Part
Your first breath underwater is something you'll never forget and you will progress through the skills from basic to more complex. During the Open Water course, you'll make at least five pool dives in the National Aquatic Centre Blanchardstown (NAC) and four Sea dives at one of our local dive sites (usually Sandycove Beach) under the supervision of your PADI Instructor.


The Scuba Gear You Use
In the PADI Open Water Diver course, you learn to use basic scuba gear and standard accessories. Oceandivers supply all the scuba equipment required by their students for the Open Water course, the use of our school gear is included in your course fee.


The Learning Materials You Need
PADI offers a variety of home-study materials for the Open Water Diver course - book and DVD package or a multimedia DVD. Recently PADI has enhanced this program by offering the learning material in an e-Learning environment via the internet.
All the training materials you will need are included in the course fee
PADI's Open Water Diver materials cover what you need to know about basic scuba diving skills, terminology and safety procedures. For each concept you'll read a description and watch a video demonstration. Then you'll head to the pool to practice these skills with your instructor. 
Course Timetable
We typically run our Open Water courses over six weeks of evening classes meeting every Tuesday at 7.00pm in the National Aquatic Centre, Blanchardstown. The first part of the evening is classroom based followed by gear selection and assembly on the pool deck before an hour long in-water session of skills and fun in the pool. Finishing time each Tuesday is about 10.15pm.
Scroll down to the bottom of this page to view our upcoming courses - click the + sign to expand each course schedule
As well as evening classes, we also offer the full Open Water course as a 5 day Intensive programme during the summer months. The Intensive course meets on a Monday at 9.00am and continues each day from 9.00am till 5.30pm finishing on the Friday afternoon.
If none of our normal schedule work out for you, let us know and we will do our best to accommodate you. Alternatively we also offer the Gold Open Water course that is tailored to your own individual schedule.
Got a Question?
Do feel free to give us a call or drop us an email but you will also find the answers to many common questions about learning to dive on our FAQs page here.