Enhanced Enriched Air Diver Learning Experience



Enriched Air Diver is PADI's most popular specialty for certified divers. It's also a great way for qualified divers from any training agency to earn a PADI certification. Diving with enriched air (aka nitrox or EANx) let's you stay down longer and get back in the water sooner. You get more no decompression time, especially on repetitive dives. You'll learn about managing oxygen exposure and determining maximum depths for enriched air blends. You'll practise analysing the oxygen content in your cylinder, setting your computer and planning enriched air dives.

Complete your EANx Specialty Online and in a 3D Virtual World
You'll do this online with the new PADI Enriched Air Diver eLearning and in a stunning 3D virtual environment where you'll experience highly realistic gas analysis and scuba diving simulations. This immersive technology provides an unparalleled learning experience.
Check out this short video clip to see how

You'll enjoy perpetual access to The Dive Shop in SL, which sits on a private tropical island in Second Life. Offshore, the water drops dramatically to depths approaching 50 metres/165 feet.
Myriad dive sites, including coral reefs, cave systems, open ocean pinnacles, kelp forests and deep ocean vents, surround the island. To explore them, you'll use your full set of realistically scripted scuba equipment complete with an EANx compatible dive computer simulator.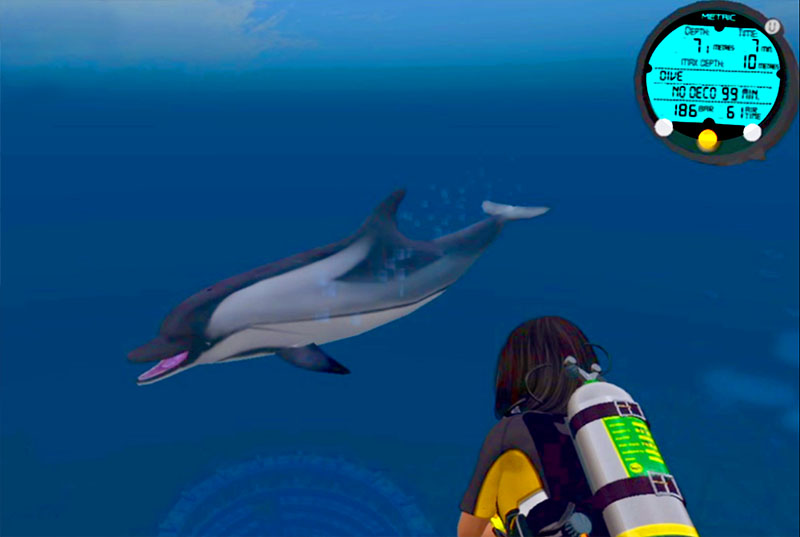 You'll be part of an active dive community from all over the world. Together, you'll experience a vibrant 3D underwater world and rub virtual shoulders with some of the most experienced divers you'll find anywhere. You'll remember the course not as a simple learning session but as a real living experience.
And best of all, in Murphy's Dive, the local pub, the advice and information flows nearly as swiftly as the endless pints of virtual Guinnes
Call or email Oceandivers to start now
Read More...
Contact us to take the Enriched Air Diver course
Ask a Scuba Expert
Take the Master Scuba Diver Challenge
Download a scuba medical questionnaire (PDF)
Course costs
For full cost breakdown just click on the link to our Prices Page and scroll to the course you need.